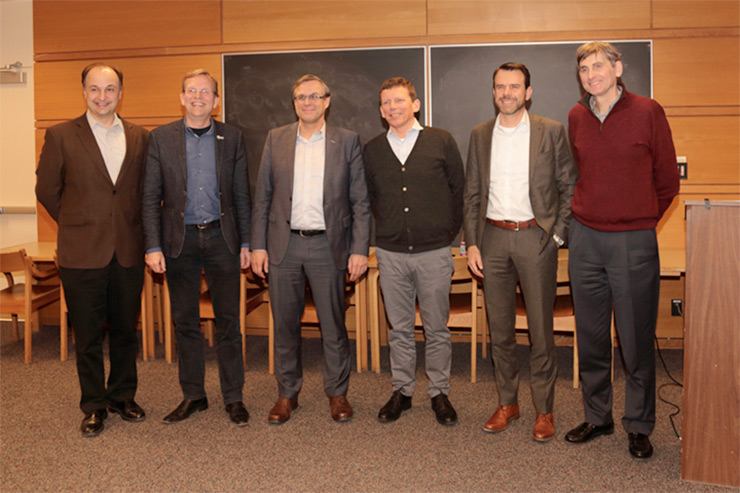 From left to right: Vladimir Bulović, Rolf van Bentham, Wim Klop, Pieter Wolters, Peter Jansens, Jesús del Alamo.
On March 23, 2017, visiting executives from DSM came to MIT for a day of talks culminating in not one but two executive seminars from the CTO and VP of Research and Technology at DSM. DSM, an international company active in the development of food ingredients, advanced materials, and biotechnology, is driven by the conviction that science can change the world and provide solutions for global issues. DSM's focus is on three sustainable growth issues: Nutrition, Climate Change and Renewable Energy, and Bio-based Economy.
Students were not left out of the day's festivities, as the visitors made themselves accessible for a casual pizza lunch at noon to discuss job opportunities within DSM. Wim Klop himself was happy to discuss DSM's advances developed through their embrace of science and technology to an attentive audience.
The tandem seminars by DSM CTO Wim Klop ("Science can change the world!") and VP Peter Jansens ("Innovation is our passion and sustainability is our growth driver") covered topics from "Clean Cow Technology" for reduced greenhouse gas emissions to "Advanced Solar and Energy Storage Solutions."
DSM is a founding member of MIT.nano and also a member of MTL's Microsystems Industrial Group.
View the Flickr gallery of the event