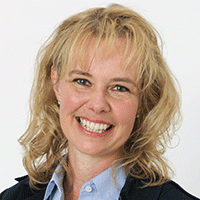 Dr. Christina Lampe-Onnerud is renowned for her pioneering work in developing and commercializing Lithium-ion (Li-ion) batteries for portable electronics, electric vehicles and utilities.  She currently serves as CEO of Cadenza Innovation, Inc., a company she founded in 2012. With a mission to bring higher energy density, lower cost, safer and environmentally sustainable Li-ion batteries to the EV and grid storage markets through licensing of its technology to global manufacturers, Cadenza has been awarded funding from ARPA-E, the states of New York, Connecticut and Massachusetts – and in July 2016 secured Series A funding in an oversubscribed round.
Earlier in her career, Dr. Lampe-Onnerud founded and served as CEO and International Chairman of Boston-Power, an innovative energy storage company which raised more than $400 million in venture funding and today is growing rapidly in China. In her time with Boston-Power, she took the firm from a startup to a global organization with technology centers in Beijing and Boston as well as multiple Asia-based Six-Sigma manufacturing locations. Prior to that, she was a partner with Arthur D. Little, where she led the world's largest non-captive battery lab and related practice. In that role, she advised market leaders on technology and go-to-market strategies.
Dr. Lampe-Onnerud's work has earned her numerous awards, including recognition as a Technology Pioneer by the World Economic Forum, an organization for which she also serves as an advisor on global innovation, renewable transport and finance.  She has also been honored as an Ernst & Young Entrepreneur of the Year, and has presented on batteries, energy storage and cleantech worldwide, including at TED and events hosted by The Wall Street Journal, Fortune, The United Nations, The International Battery Conference, U.S. DOE/ARPA-E, MIT and many others. Dr. Lampe-Onnerud holds a Ph.D. in Inorganic Chemistry from Uppsala University, Sweden, and conducted post-doctoral work at MIT.