MTL Seminar Series
Gallium Nitride MEMS and Microsystems
Prof. Mina Rais-Zadeh, U of Michigan
Speaker
Abstract
Exclusive Content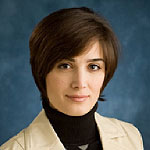 Mina Rais-Zadeh received the Ph.D. degree in ECE from Georgia Institute of Technology in 2008. Since January 2009, she has been with the University of Michigan, where she is currently an Associate Professor in the EE Department. Her research interests include RF MEMS, gallium nitride MEMS, and micro/nano fabrication process development.
In the last few years we have seen rapid growth of III-V semiconductors geared towards a variety of applications where silicon performance falls short. GaN, a III-V semiconductor, is proven to be the material of choice for high-frequency, high-power, and high-temperature applications. GaN also offers a number of excellent mechanical properties, making it a suitable material for MEMS. This talk discusses the application of GaN micromechanical devices in timing and integrated sensing.
This content is restricted to our MIG members and members of the MIT community. Login below, or contact us for more information about our partner programs.