MTL Seminar Series
More than Moore Research @ STMicroelectronics
Marco De Fazio, STMicroelectronics
Speaker
Abstract
Exclusive Content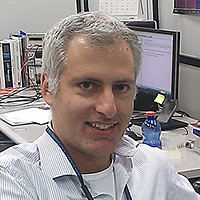 Dr. Marco De Fazio is leading the "More than Moore" research lab with the mission of supporting product divisions with longer term research.  He was a tutor of several master theses and PhDs including strong collaborations with European Universities. Now he has the role of Scientific Advisor for More than Moore research with the aim of exploring new fields for silicon technology applications supporting division in non-conventional longer term research in the field of sensors (MEMS, MOEMS, etc.), healthcare and optical systems.  He is currently a visiting scientist at MIT with a focus on graphene.
"More Than Moore" long-term vision is necessary for industry to build solid basis for long-term products evolution, this means investment are needed for high risk research projects also. The talk will cover several application examples developed or under development in the STMicroelectronics' More than Moore lab in Agrate Brianza (MI, northern Italy). The talk will cover examples of microfluidics designs, MEMS, MOEMS at both device and system level. The presentation will conclude by introducing the visionary Bio-to-Bit technology, an application of semiconductors to the biology/medicine deploying MEMs/bio-sensors to address the healthcare needs of society.
This content is restricted to our MIG members and members of the MIT community. Login below, or contact us for more information about our partner programs.