MTL Seminar Series
Colloidal Dispersions of Core-Shell Nanoparticles as Precursors to Porous Thin Film Coatings in PV Applications
Damien Reardon, DSM
Speaker
Abstract
Exclusive Content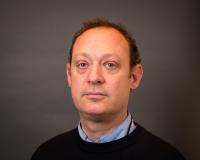 Damien Reardon is a Canadian national living and working in the Netherlands with his wife and three kids. He has been working for DSM for the past 8 years as Principal Scientist and Research Platform Director Functional Materials. His previous appointment was at DuPont CR&D in Wilmington (DE), USA, where he spent 8 years. Damien received his PhD from the University of Ottawa and pursued as a BP post-doctoral fellow at Imperial College London (UK). His areas of specialization lie in the development of novel materials in coatings and thin film devices in light management, energy harvesting and energy storage. He currently sits on advisory boards for MIT.nano; AFFOA and at the Technical University in Eindhoven (NL). He is currently overlooking multiple open innovation industrial / academic collaborations in Europe as well as in the US.
The use of hollow nanoparticles has recently gained considerable attention with applications in many fields ranging from drug delivery to filtration membranes1. DSM has developed a single layer nanoporous antireflective cost-effective coating which can be deposited / processed from solution on a wide variety of substrates such as glass to by-pass the costly traditional interference-type multilayer coating currently available in the market. To obtain a one-layer coating with good antireflective properties, very low refractive index materials are necessary. The optimum refractive index n for a one-layer antireflective coating is 1.23 @ 700nm. There are, however, very few low index inorganic solid materials that display a refractive index lower than 1.37, therefore the best method to realize materials with a low n, is to reduce their packing density or increase porosity.
DSM managed to develop a coating technology based on silica / latex core-shell nanoparticle colloidal dispersion. The desired shell-density can be tuned by controlling the silica reaction conditions and self-assembly mechanisms at the latex particle / solvent interface. The resulting antireflective coating is mechanically robust, with a transmission of 98% or higher, and shows excellent outdoor durability. Added functionalities to the anti-reflective coating for PV applications will also be discussed.
This content is restricted to our MIG members and members of the MIT community. Login below, or contact us for more information about our partner programs.