MTL Seminar Series
Forging Intelligent Systems in the Digital Era
Gary Patton, GLOBALFOUNDRIES
Speaker
Abstract
Exclusive Content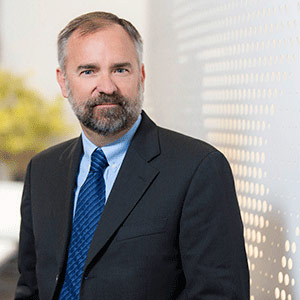 Dr. Gary Patton is the Chief Technology Officer and Senior Vice President of Worldwide Research and Development at GLOBALFOUNDRIES where he is responsible for GLOBALFOUNDRIES' semiconductor technology R&D roadmap, operations, and execution. Prior to joining GLOBALFOUNDRIES, Dr. Patton was the Vice President of IBM's Semiconductor Research and Development Center - a position that he held for eight years where he was responsible for IBM's semiconductor R&D roadmap, operations, execution, and technology development alliances across multiple locations. Dr. Patton is a well-recognized industry leader in semiconductor technology R&D with over 30 years of semiconductor experience. Dr. Patton received his B.S. degree in electrical engineering from UCLA and his M.S. and Ph.D. degrees in electrical engineering from Stanford University. He is a Fellow of the IEEE and recipient of the 2017 IEEE Frederik Philips Award. In 2016, Dr. Patton was inducted into the VLSI Research Hall of Fame for his contributions to the advancement of the semiconductor industry over several decades. He has co-authored over 70 technical papers, given numerous invited keynote and panel talks at major industry forums, and served on the IEEE Nishizawa Medal and Grove Field Award Committees.
The pace of technological change is evolving faster than businesses can adapt, setting the stage for a new era of innovation in the electronics industry. This pace is accelerating as we enter an era of ubiquitous computing, with sensors on our bodies, in our homes and offices, and all over our cities. For the semiconductor industry, digitization, connectivity, and the Internet of Things now promise to be the enablers for the next phase of growth. However, the industry has reached a new level of maturity that demands new innovations in computing, connectivity, integration and ultra-low power applications. One technology doesn't fit all. Although traditional Moore's Law scaling is still important for semiconductor technology progress, the complexity of technology development requires a new paradigm of silicon scaling and changing market needs require innovation in differentiated silicon technology as well as system-level integration.
The industry is pursuing numerous technologies that will continue conventional scaling as well as expand beyond it. This presentation will examine the economic trends reshaping the industry, explore opportunities and approaches that can extend scaling, highlight the role of collaborative innovation to meet technical challenges and provide insight into GLOBALFOUNDRIES' vision to enable the technology for a new digital era.
This content is restricted to our MIG members and members of the MIT community. Login below, or contact us for more information about our partner programs.