MTL Seminar Series
The Future of AI Systems
Mukesh Khare, IBM
Speaker
Abstract
Exclusive Content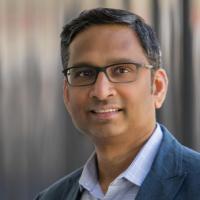 Dr. Mukesh V. Khare is Vice President at IBM Research, driving IBM's computing hardware research agenda.  In his current role, he and his team of more than 1000 researchers worldwide are re-defining the future of computing for the next generation workloads such as AI, Machine Learning, High-Performance Computing and their delivery through Hybrid Cloud. 
Throughout his career, Dr. Khare helped build and drive collaborative research alliances in the semiconductor industry to push the state of the art and most recently championed the formation of AI Hardware Center to drive innovations in AI technologies through collaboration. Dr. Khare has led research, development and implementation of several innovative technologies such as high-k metal gate and FinFET with significant value to IBM and research alliance partners.
Dr. Khare is a recipient of IBM Corporate Award and Outstanding Technical Achievement Award for his accomplishments and is IBM Distinguished Engineer. He is the Chairman of the Board of Directors for the Semiconductor Research Corporation (SRC) and serves on the advisory boards of several research focused entities. Dr. Khare served as the General Chair of the 2018 Symposia on VLSI Technology, has co-authored more than 100 research papers and holds several U.S. and international patents.
Dr. Khare began his career at IBM in 1998 after finishing his M.S, M. Phil. and Ph.D. degrees from Yale University. A proud father of two and the husband of an architect, Dr. Khare is a strong advocate of diversity and equal opportunity in the workplace through sponsoring initiatives such as PowerUp for women engineers.
This foundational element of traditional computing – the bits, originated from the combination of mathematics and information and for the last 50-years, technology industry has been enjoying the legacy of Moore's law. The idea of bit has propelled the digitization of our world and it continues to drive innovation in traditional computing. In recent years, artificial intelligence systems, merging neuron-inspired biology with information, have achieved superhuman accuracy in a range of narrow classification tasks by learning from labelled data. Advancing from narrow AI to broad AI is necessary to generate significant business value and requires breakthrough innovations in both hardware and software technologies. IBM launched the AI Hardware Research Center earlier this year to build an end to end collaborative ecosystem for advancement of the state of the art in this space. In my talk, I will discuss innovations in the field of both classical computing "bits" for classical enterprise systems and IBM's investments and roadmap towards aggressive agenda around "neurons-inspired" AI Systems. We believe that the future of computing will be built upon bits + neurons + qubits, orchestrated through a secure hybrid cloud fabric and intelligent automated programming.
This content is restricted to our MIG members and members of the MIT community. Login below, or contact us for more information about our partner programs.