MTL Seminar Series
Miniaturized Neural Interfaces and Implants in Basic and Translational Research
Thomas Stieglitz, University of Freiburg/IMTEK
Speaker
Abstract
Exclusive Content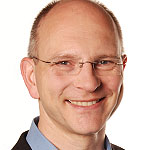 Thomas Stieglitz received his MSEE from Karlsruhe University of Technology in 1993 and his PhD from University of Saarland in 1998. He has 20 years of experience in the field of neural implant development. He worked with the Fraunhofer-Institute for Biomedical Engineering (St. Ingbert, Germany) for 11 years before he became full professor of biomedical microtechnology at the Department of Microsystems Engineering (IMTEK) at the University of Freiburg in 2004.
Neural prostheses are technical systems that shall reliably interface nerves for decades. Success stories have been written with the cochlear implant to restore hearing, with spinal cord stimulators to treat chronic pain, and with deep brain stimulators in patients suffering from Parkinson's disease. Miniaturization allows higher complexity but novel materials and approaches have to prove material stability and biocompatibility as well as system reliability. These aspects will be introduced and discussed on examples of neural implants in the peripheral and central nervous system.
This content is restricted to our MIG members and members of the MIT community. Login below, or contact us for more information about our partner programs.