The Future of Nanoscale Electronics Symposium
Multi-Chip Technologies
Dr. Lisa Su, President & CEO Advanced Micro Devices (AMD)
Datacenter and high-performance computing capabilities have continued their exponential improvements in performance over the prior decade, driven by the proliferation of devices and data through the internet of things (IoT), and new applications in the enterprise and cloud. This trend will continue over the next decade as the demand for compute performance continues to grow with exabytes of data being created daily and new use models incorporating machine learning and artificial intelligence become more prevalent. As Moore's Law has slowed in recent years, numerous techniques including system, architectural and software innovation have been used to extend the high-performance processor performance improvements. We examine these techniques and demonstrate that although some of these will continue, new innovations are needed especially at the system level to continue the performance trend over the next decade. We believe that multi-chip technologies and system level innovations are key to unlocking the performance gains in computing over the next decade.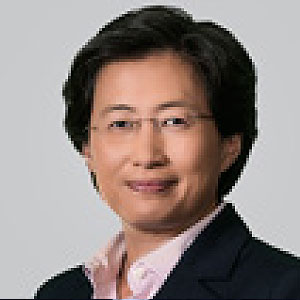 Dr. Lisa Su is AMD's president and chief executive officer and also serves on the company's board of directors. Previously, she was chief operating officer responsible for integrating AMD's business units, sales, global operations and infrastructure enablement teams into a single market-facing organization responsible for all aspects of product strategy and execution. Dr. Su joined AMD in January 2012 as senior vice president and general manager, global business units and was responsible for driving end-to-end business execution of AMD's products and solutions.Prior to joining AMD, Dr. Su served as senior vice president and general manager, Networking and Multimedia at Freescale Semiconductor, Inc., and was responsible for global strategy, marketing and engineering for the company's embedded communications and applications processor business. Dr. Su joined Freescale in 2007 as chief technology officer, where she led the company's technology roadmap and research and development efforts.
Dr. Su spent the previous 13 years at IBM in various engineering and business leadership positions, including vice president of the Semiconductor Research and Development Center responsible for the strategic direction of IBM's silicon technologies, joint development alliances and semiconductor R&D operations. Prior to IBM, she was a member of the technical staff at Texas Instruments in the Semiconductor Process and Device Center (SPDC).
Dr. Su has bachelor's, .master's and doctorate degrees in electrical engineering from the Massachusetts Institute of Technology (MIT). She has published more than 40 technical articles and was named a Fellow of the Institute of Electronics and Electrical Engineers (IEEE) in 2009. She serves on the Board of Directors for Analog Devices, the Global Semiconductor Alliance (GSA) and the U.S. Semiconductor Industry Association (SIA)