MTL Executive Seminar
Three Pillars Enabling the Internet of Everything: Smart Everyday Objects, Information-Centric Networks, & Automated Real-Time Insights
Sophie Vandebroek, Xerox
Speaker
Abstract
Exclusive Content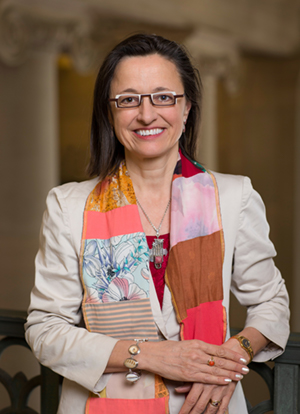 Sophie Vandebroek is the chief technology officer of Xerox Corporation and president of the Xerox Innovation Group. She was named to these positions and appointed a vice president of the corporation in Feb. 2006.
Dr. Vandebroek is responsible for Xerox's global research labs with a mission to create high-impact innovations that drive profitable revenue growth. The labs are located in Europe, Asia, Canada and the U.S., and include the Palo Alto Research Center (PARC Inc.) that provides custom R&D services.
In previous Xerox roles she served as Xerox's chief engineer, vice president of the Xerox Engineering Center, technical advisor to Xerox's chief operating officer and director of the Xerox Research Centre of Canada.
Dr. Vandebroek is a Fellow of the Institute of Electrical & Electronics Engineers (IEEE), a Fulbright Fellow and a Fellow of the Belgian-American Educational Foundation. She holds 14 U.S. patents. Dr. Vandebroek has received awards from Xerox, IBM, HP, Monsanto, the Belgium National Science Foundation, Semiconductor Research Corporation, IEEE and Cornell University. Dr. Vandebroek was inducted into the Women in Technology International Hall of Fame, elected into the Royal Flemish Academy for Arts & Sciences, and received an honorary doctorate degree from Clarkson University.
Dr. Vandebroek is a member of the board of directors of IDEXX Laboratories (IDXX) and of Analogic Corporation (ALOG). She serves on the advisory council of the dean of Engineering at the Massachussets Institute of Technology.
Dr. Vandebroek was born in Belgium where she earned a master's degree in electro-mechanical engineering from KU Leuven. She received her Ph.D. in electrical engineering from Cornell University in Ithaca, N.Y.
When smart everyday objects, information-centric networks, and automated real-time insights work in concert a "perfect storm" of functionality emerges, one which will disrupt entire industries: Gartner predicts that the global economic value of the Internet of Everything (IoE) will be $1.7T in 2020. But, even more important will be the inevitable improvements to human society that IoE enables: personalized healthcare and education, agile urban mobility, efficient energy usage, and much more.
This talk will provide examples of how each of the three pillars of IoE relies on electronics: (1) printed hybrid logic and sensor circuits using organic inks and inks embedding microchips to create smart 2D labels and to manufacture 3D personalized Internet-connected objects; (2) informationcentric network protocols and hardware (for example, CCNx) to increase the Internet's versatility, reduce its traffic congestion, improve security, and simplify application development; and (3) machine-intelligence software and deep-learning chips to create real-time insights and automate processes at the "edge" of the IoE network.
The three pillars of IoE will be illustrated through examples from healthcare and transportation. A number of unique challenges and opportunities for general-purpose and custom chip designs will be highlighted.
This content is restricted to our MIG members and members of the MIT community. Login below, or contact us for more information about our partner programs.