MTL Seminar Series
Trends, Opportunities and Challenges Driving Architecture and Design of Next Generation Mobile Computing and IoT Devices
Karim Arabi, Qualcomm
Speaker
Abstract
Exclusive Content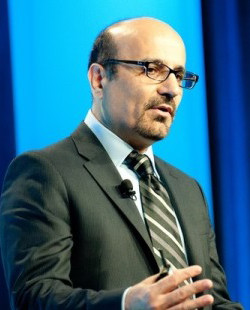 Dr. Karim Arabi is Vice President, Engineering at Qualcomm where he is head of Corp. R&D ASIC department responsible for research and development in next generation ASIC and new product development. Previously, he was VP, Engineering and Technology at Dialog Semiconductor responsible for driving overall technology and new product development. Karim held technical positions at PMC Sierra and Cirrus Logic and was co-founder of Opmaxx, an innovative startup in analog design, test and automation. Karim obtained his Ph.D. and M.Sc. in Electrical Engineering from Polytechnique Montréal, Canada and his B.Sc. in Electrical Engineering from Tehran Polytechnic. Karim is interested in technology development for mobile computing and all aspects of mobile SoC architecture, design and implementation. He has worked on SoC and CPU architectures, modems, mixed-signal and RFIC design, PMIC design and semiconductor technology. Dr. Arabi has published more than 100 papers and holds several patents covering key SoC design technologies.
The mobile computing and communication industry has been characterized by constant changes and rapid expansions. Aggressive silicon integration technology scaling, advanced low power design techniques, efficient mobile wireless and connectivity solutions and advances in a plethora of sensor technology have been critical in enabling mobile computing in a ubiquitous and cost-effective manner. Mobile computing continues to drive innovation in technologies that will enable new use cases and applications in an energy and cost efficient manner. The industry is now evolving quickly to leverage these capabilities to address the emerging wearable and IoT opportunities expected to sustain growth for the next decade. Choice of device architectures and features are impacted by market requirements and mega trends. In this presentation mega trends, opportunities and challenges driving next generation mobile and IoT devices will be reviewed.
This content is restricted to our MIG members and members of the MIT community. Login below, or contact us for more information about our partner programs.