Distinguished Lectures
Yes, Industry, There is a Future for Semiconductors
Richard K. Templeton; Chairman, President, & CEO; Texas Instruments, Inc.
Speaker
Abstract
Exclusive Content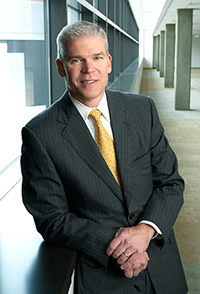 Rich Templeton is chairman, president and chief executive officer of Texas Instruments Incorporated. He joined the company in 1980 one week after earning a Bachelor of Science degree in electrical engineering from Union College in New York. He began his TI career in sales and eventually became president of the company's Semiconductor business. In 2004, Mr. Templeton became president and chief executive officer and chairman of the board in 2008.  He has served on the company's board of directors since July 2003.
As CEO, Mr. Templeton has not been afraid to reshape the company, focusing resources on growth opportunities in TI's core businesses of Analog and Embedded Processing.  Mr. Templeton has led TI to become the global leader in analog integrated circuits, while still maintaining the company's strengths in embedded systems and digital signal processing. He has topped the list of Institutional Investor's Best Semiconductor CEOs in America for several years, most recently in 2015.
Mr. Templeton, like the company he runs, is industry- and civic-minded. He focuses much of his external energies on public issues and initiatives that advance the high-tech industry and STEM education. Under his leadership, TI and the TI Foundation have invested $150 million over the last five years to strengthen global education programs, including K-12 STEM teaching and student achievement. In 2012, the Semiconductor Industry Association awarded him its highest honor, citing his service as a "vigorous advocate for STEM education and longtime champion of research and innovation."
In addition to numerous board memberships, Mr. Templeton has personally lead the company's United Way campaign for many years, resulting in tens of millions of dollars of donations to a variety of charitable organizations.
"The only thing scarier than change is not changing. We must foresee change so that we can be in a stronger position than those who don't."
—Templeton, on the secret to TI's longevity
This content is restricted to our MIG members and members of the MIT community. Login below, or contact us for more information about our partner programs.